Diminishing Returns
Talk

0
345pages on
this wiki
This article needs an original episode summary. Please help improve White Collar Wiki by writing one. Please

remove

this template once cleanup is complete.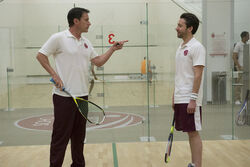 Diminishing Returns
Previous Episode
Next Episode
Diminishing Returns is the 3rd episode of Season 4 of the series and the 49th produced episode.
After the debacle from the previous two episodes, Peter is assigned to the evidence room. Fortunately, the new gig allows him and Neal to find new evidence and begin a case against a criminal mastermind named David Cook, whom Peter has been trying to catch every since he joined the FBI.
Act Three
Edit
Conclusion
Edit
[Peter and Neal in the 'yard'/Lunch spot by eviance eating]
Peter: You know you never did finish that story.
Neal: What story?
Peter: The one about your dad, about Ellen. Who was she to you?
Neal: When my dad went away my mom just checked out, She was around but she wasn't ... (Shrugs) around. So Ellen looked after me.
Peter: How could she look after you if she was in Witness...
Peter: You grew up in Witness Protection
Neal: I was three when the marshals took us away
Peter: What did your dad do?
Neal: He admitted that he was a murderer
Peter: Do you know who he...?
Neal: No, no one ever told me
Peter: Where'd you go?
Neal: The marshals took us to St. Louis. It was my mom, Ellen and I. They changed my name to Danny Brooks. My mom told me my dad died a hero and I grew up envying this man that I never even knew. I wanted to follow in his foot steps.
(Sighs)
Neal: In a way I guess I did
Peter: No you didn't. You're not a killer.
Neal: No I'm not, but I am a criminal.
Neal: When I was 18, Ellen told me the truth. She told me my real name was Neal.
Peter: Your mother's maiden name was Caffery.
Neal: I couldn't take his name. Not after I knew.
Peter: So that's when Neal Caffery was born.
Neal: Yeah. After she told me everything, I ran and never looked back.
Neal: But now i want to know i want to know who he was, I want a know if he did it
Peter: Well Ellen's here now, Go find out
For Starring Cast, see Season 4#Credits.
Guest Starring
Edit