Tom Skerritt, portraying El's father, appeared in only one episode, along with Debra Monk as her mother, Pulling Strings - Season 3, episode 14.  They appear in New York for Elizabeth's birthday.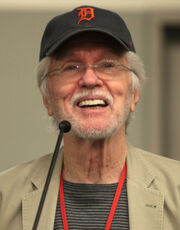 PHOTO CAPTION and CREDIT:     Tom Skerritt speaking at the 2014 Phoenix Comicon Fan Fest at the University of Phoenix Stadium in Glendale, Arizona. Please attribute to Gage Skidmore if used elsewhere.  (https://en.wikipedia.org/wiki/Tom_Skerritt)
Ad blocker interference detected!
Wikia is a free-to-use site that makes money from advertising. We have a modified experience for viewers using ad blockers

Wikia is not accessible if you've made further modifications. Remove the custom ad blocker rule(s) and the page will load as expected.