This article needs an original episode summary. Please help improve White Collar Wiki by writing one. Please

remove

this template once cleanup is complete. (Feb 11, 2012)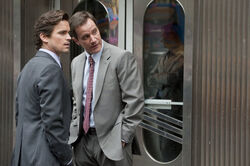 In the Red
Previous Episode
Next Episode
In the Red is the 6th episode of Season 2 of the series and the 20th produced episode.
Neal is talking to a woman in a car, but it is unknown why. The FBI are watching from a van, listening to Neal over an earpiece.
Neal trades his briefcase for jewels, asking if she's sure. He seems reluctant to make the trade, and Peter wonders why. Neal asks again if she's sure, and she says yes and to hurry up.
Peter and the FBI finally move in, and Neal holds up a child's toy train, saying "no guns". The FBI are shocked to see a young boy sleeping in a car seat in the backseat.
The woman is crying in the FBI office. They ask her why she stole the jewels from her work and why she brought her son. He was adopted only a little while earlier.
However, the mother got a demand for more money, otherwise the birth mother would take him back.
Act Three
Edit
Conclusion
Edit
"He's Good. I'm better."
For Starring Cast, see Season 2#Credits.
Guest Starring
Edit
Special Guest Star
Edit
Co-Starring
Edit
Michael Aronov as Clark "the Shark" Maskhadov
Dennis Staroselsky as Bernie Buryatskiy
Aleksander Mici as Bouncer
Victoria Barabas as Clerk
Clark Jackson as Detective
Brent Bradley as Sulim
Ad blocker interference detected!
Wikia is a free-to-use site that makes money from advertising. We have a modified experience for viewers using ad blockers

Wikia is not accessible if you've made further modifications. Remove the custom ad blocker rule(s) and the page will load as expected.