Kate Moreau
Talk

0
347pages on
this wiki
Kate Moreau is an ex-girlfriend of Neal Caffrey. She died in a plane explosion.
Character Summary
Edit
Kate, a loyal girlfriend to Neal, comes to visit him every week while he is in prison. Four months before Neal is due to be released, Kate tells Neal, "I can't do this anymore. Goodbye." She then walks away leaving him gaping in shock.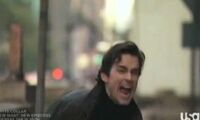 A heartbroken Neal escapes from prison only to find Kate has left their apartment empty. The only thing she left behind for him was an empty bottle of wine from Bordeaux. Neal had bought the bottle cheap and refilled it with whatever wine they had to remind himself and Kate they had a bright future.
In the episode Threads, Neal watches the security recording of Kate's last visit to him in prison. Neal realizes Kate tapped out Morse Code using her right index finger. Neal knew this meant the bottle and he was set out to find the secret that it holds.
In the episode Free Fall, Peter meets with Kate and it is revealed in order to free Kate Neal must get a particular music box. Peter thinks Kate is using Neal. Neal refuses to believe this. Whether Kate really loves him is unknown throughout the first season.
In the episode Bad Judgement, Neal goes to Kate's father's grave and finds a flower made out of paper among the other flowers. This flower contains another message for Neal.
At the end of season 1, Neal is on his way to an airfield where he and Kate are going to board a plane and run away together. Peter arrives as Neal is about to board the plane and tries to dissuade Neal from leaving. As Neal is making his decision, he sees Kate in a plane window just before the plane explodes from too much carbon dioxide.
At the start of Season 2, we learn Kate died in the plane explosion. In Season 2, we learn more about how Kate met Neal and what started their relationship. In the episode Forging Bonds, Neal goes to a party hosted by Vincent Adler. While smooth talking Adler, he introduces Neal to Kate. When Kate met Neal, he was assuming his alias Nick Halden. At the time Kate already had a boyfriend, but Neal was still head over heels for her. During Neal's long con, Kate tells him that she plans to move to Chicago with her boyfriend. A few days later, the day that Kate was supposed to leave for Chicago, she shows up at Neal's apartment. She claims that "It was a big step in the wrong direction" and they share in an on screen kiss.
Months pass, Kate and Neal are still close. One morning in Neal's apartment, Kate turns on the tv to find a story on Adler running a Ponzi scheme leaving with a billion dollars. Kate and Neal are left with no money and no jobs, it is then that Neal tells Kate what his real name is. The two of them remain together, as Neal teaches Kate how to run cons. After a while, Neal proposes to go to a few European countries. Claiming that he needed to get away from Peter, Kate saw the flower from Alex realizing that she was about to be conned. Being angry that he tried to trick her she left, and Neal went with Alex in an attempt to get the music box. The scheme failed and when Neal came back, Kate was nowhere to be found.
Mozzie told Neal about a rumor he heard that Kate was fencing something and had a location. Neal goes to confront her, successfully finding her. Both of them confess their 'love' for each other, just before Neal gets arrested by Peter.
Relationships
Edit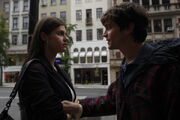 Neal is Kate's boyfriend. He escapes from jail to look for her once she stops visiting him. Though it is often suggested by both characters and fans alike that she was merely using him.
Robert is Kate's deceased father. She left a paper flower at his grave for Neal.