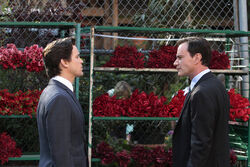 No Good Deed
Previous Episode
Next Episode
No Good Deed is the 9th episode of Season 5 of the series and the 71st produced episode.
Peter's thrown back into an unsolved larceny case that has Neal worried – because Neal's the one who committed the crime.
For Starring Cast, see Season 5#Credits.
Guest Starring
Edit
Co-Starring
Edit
Chapel of St. George, 4 Rutherford Place, New York, NY

Ad blocker interference detected!
Wikia is a free-to-use site that makes money from advertising. We have a modified experience for viewers using ad blockers

Wikia is not accessible if you've made further modifications. Remove the custom ad blocker rule(s) and the page will load as expected.