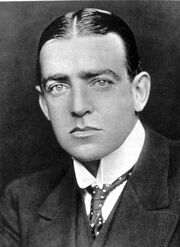 Ernest Shackleton led multiple expeditions to Antarctica in the early 1900s. One expedition left behind bottles of scotch whisky in individual wood boxes labelled "ML".
Almost a century later the whisky was discovered frozen in the ice at the abandoned expedition site and recovered intact. By 2012 June Ellington had one of the recovered bottles—won from Mozzie in a high-stakes game of Candy Land—valued at $200,000.
Shortly after the scotch was recovered from the Antarctic ice, MacKenzie Distillers created a replica blend, which like the original was "elegant, light, with a taste of Orkney Islands peat".
In 2013, Neal Caffrey used his knowledge of alcohol counterfeiting to create an uncolored Shackleton replica for a tasting that also featured Dunbarton Old Blend Scotch Whiskey [sic], Oliver Samuel Blended Scotch Whisky, and The Samsonhead
As a result, Neal was asked to counterfeit 55 bottles of McCann whiskey at Dennis Flynn Jr's micro-distillery.
Real world
Edit
The scotch left behind by Ernest Shackleton's 1907 expedition was actually a blend by Mackinlay & Company labelled the Endurance Expedition. In 2006 whisky crates were found frozen in the ice under the floor of an expedition cabin. In 2010, five crates containing at least 11 intact bottles were recovered from the ice. In 2011, Whyte & Mackay—the current owners of Mackinlay & Company—released 50,000 bottles of a replica blend for £100 each.
Fictional whiskies and distilleries in the episode include:
Dumbarton, West Dunbartonshire – home to J&B Scotch and a large Ballantine distillery.
Oliver Samuel – actually a 19th century Member of Parliament from New Zealand.
Samsonhead – implies a distillery at the headwaters of a Samson river.
MacKenzie – actually a Scottish surname.
The Dunbarton props include a misspelling: Whiskey is the Irish spelling (also used in America), Whisky (no "e") is the correct Scottish spelling (also used in Canada and Japan).[1][2]
External links
Edit
References
Edit
↑ Maynard, Nora (November 6, 2009) "Whiskey vs. Whisky: What's the Difference?" TheKitchn.com
↑ Asimov, Eric (Decmber 4, 2008) "Whiskey versus Whisky" The New York Times
Ad blocker interference detected!
Wikia is a free-to-use site that makes money from advertising. We have a modified experience for viewers using ad blockers

Wikia is not accessible if you've made further modifications. Remove the custom ad blocker rule(s) and the page will load as expected.