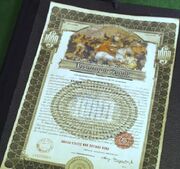 The Spanish Victory Bonds were issued during World War II in 1944. The United States of America issued it to support the Spanish underground in their battle against the Axis.
According to Vincent the archivist, very few of the bonds have ever been redeemed. There was also speculation that entire boxes were captured and that many are still hidden away in the caves of Altamira.
The Spanish Victory Bond housed in The National Archives is the only surviving copy.
Ad blocker interference detected!
Wikia is a free-to-use site that makes money from advertising. We have a modified experience for viewers using ad blockers

Wikia is not accessible if you've made further modifications. Remove the custom ad blocker rule(s) and the page will load as expected.