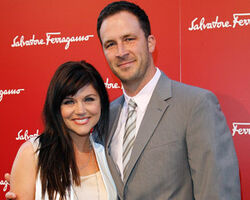 As you know, White Collar will be premiering its third season next week! In July, this popular show will have a special guest star: Brady Smith...who just happens to be the husband of the series regular, Tiffani Thiessen!
TV Line reports that Smith will be playing "an ex-Navy commander and COO of a Blackwater-type private security company who has a connection to the valiant FBI agent's past."
Sounds mysterious! Meanwhile, White Collar has also Lena Headey, of Game of Thrones fame as a cyber hacker, according to TV Guide
Are you excited for these guest stars? Can't wait for the third season? Tell us in the comments!
Kate.moon 18:35, May 31, 2011 (UTC)
Ad blocker interference detected!
Wikia is a free-to-use site that makes money from advertising. We have a modified experience for viewers using ad blockers

Wikia is not accessible if you've made further modifications. Remove the custom ad blocker rule(s) and the page will load as expected.