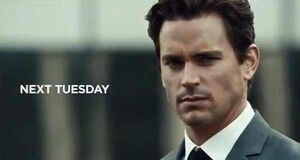 To kick off
Part 2 of the fourth season
of
White Collar
, we will be hosting a live chat party for the
newest episode
on Tuesday, January 22nd. The episode airs at 10pm ET, but you are welcome to join anytime before, during, and after to talk about the show! West Coast viewers might want to jump in a bit later to avoid spoilers!
Assuming the chat party is a success, we will be convening every Tuesday night for new episodes.
By the way, the chat room is always accesible in the navigation bar under On the Wiki if you're looking for some help editing, can't wait to talk about the show, or if you just need someone to talk to!
Feel free to let us know if and when you'll be attending the chat in the comments section below:
Ad blocker interference detected!
Wikia is a free-to-use site that makes money from advertising. We have a modified experience for viewers using ad blockers

Wikia is not accessible if you've made further modifications. Remove the custom ad blocker rule(s) and the page will load as expected.