Wanted
Talk

0
347pages on
this wiki
This article needs an original episode summary. Please help improve White Collar Wiki by writing one. Please

remove

this template once cleanup is complete.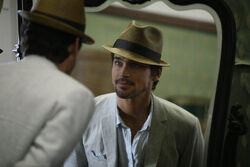 Wanted
Previous Episode
Next Episode
Wanted is the 1st episode of Season 4 of the series and the 47th produced episode.
When Season 3 left off in the finale Judgement Day, Neal and Mozzie were fleeing the country. The premiere of Season 4 introduces us to Kyle Collins, a manhunter from the Office of International Affairs who begins looking for Neal after the FBI fails to find him after several weeks. Peter is able to send a message to Neal's "secret location" in Cape Verde, but decides to go help him in person on the tropical island. Unfortunately, he makes a rookie mistake before he departs, leaving behind a map with the location circled. When Collins later searches his home, he finds the clue and makes his own way to Cape Verde. There, he meets Peter in a cafe and tells him there is a $500,000 bounty on Neal's head, without mentioning whether that bounty requires him to be dead or alive. With such a predicament at their hands, Neal, Peter, and Mozzie must find a way to escape using whatever sources are available on the tiny island. While Peter and Mozzie go to find one of Mozzie's many contacts, Neal takes it upon himself to seek out the richest man in Cape Verde- Henry Dobbs. Dobbs is very rich and very private, but he tells Neal that he knows about the bounty and Collins soon arrives at his house make the capture.
Act Three
Edit
Conclusion
Edit
For Starring Cast, see Season 4#Credits.
Guest Starring
Edit
Co-Starring
Edit