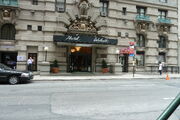 The Wolcott Hotel is a filming location in Manhattan, New York that was seen in
Episode 4x16: "In the Wind" where June met Neal to give him the ring, located in 4 West 31st Street between 5th Ave and Broadway
In In the Wind Neal meets June in front of this hotel. She gives him the engagement ring for Sara.
External links
Edit
Ad blocker interference detected!
Wikia is a free-to-use site that makes money from advertising. We have a modified experience for viewers using ad blockers

Wikia is not accessible if you've made further modifications. Remove the custom ad blocker rule(s) and the page will load as expected.